Life is full of surprises, some pleasant while some otherwise. The financial shockers in terms of sudden unexpected expenses often set the planned finances of a person behind by a great extent. A sudden requirement of money could range from anything right from medical expenses to sudden breakdown and repair work of the car or financial losses etc.
Research shows that whenever an unexpected expense comes up, people usually do not have enough savings and have to borrow or arrange for amounts like an expense of about $500.
At such times to get fast cash becomes the need of the hour. Arranging for money at a short notice is almost always difficult for people. It is not always possible that a person has enough savings to dig into nor is payday always so near. In an attempt to get fast cash, no matter how tempting it may seem, one must not borrow money from any and every money lender who comes your way.
There are plenty of money lending options that are like predators who catch vulnerable victims and fix them within the vicious cycle of loan repayment. Such money lending options with all their 'get fast cash' options have sky-high APRs that make you end up paying a huge sum in form of interest rates.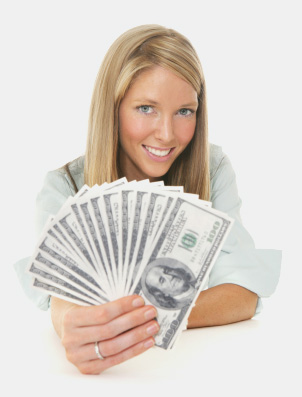 How to get fast cash in an emergency?
It is understandable that, times of an urgent cash crunch are always stressful; one must first try all other options before trying the more expensive ones. Check out some of the commonest ways to get fast cash.
Federal credit union cash loans
Online Personal loans
Credit card cash advance
Payday loans or no credit card check loans.
These money lending options are always available for general public. But before one involves the official money lending procedure, one can try all other options of arranging to get fast cash. This is true especially if the loan amount required is not very high.
Some simple options to try and gather as much cash as you can
Dig into all your savings
Check your wallet, your bank savings and any other savings that you would have made and saved for a rainy day. What use is that money if you cannot use it exactly when there is a rainy day? You never know, some piggy bank savings done as a child may also come handy in gathering up a few hundred dollars. Check all the probable places you would have stored money including your jeans pockets, old bag pockets. It may seem silly, but you will be surprised at the amounts that you manage to gather. Besides, when the need to get fast cash is here, checking your personal savings should always be your first response, even before considering a loan.
Request more time for repayment
Though the thought of an urgent need of money tends to stress one out, it is important to stay calm and work all your options out. Before you take panic and take a loan from the first money lender who offered cash, one can try to request if the emergency payment option can be delayed.
To elaborate this further, if have to pay the medical bills for an emergency medical treatment and you do not have enough funds to cover the complete cost. You could request the medical representative to allow you some more time to pay the bill. You never know, maybe they have a more flexible payment option available with them. Request if it is possible for them to waiver off certain fees that can reduce the final amount to a certain extent.
You can request a repair workshop to allow you to pay for the repair of your car in smaller bits. If the garage owner knows you and has a decent relation with you, he might allow you to pay the final bills in smaller sums. If you request, they may also provide some services at a discounted price that can help reduce the final amount.
Though this option is not possible in all scenarios, but trying it out never hurts. Checking for all modes of repayment that include waiting until payday is worth exploring.
Selling things that are good but of no use to you.
This is one of the brightest ideas that people do not explore enough. If you look around there will be plenty of things around you that may be in good condition but you do not use anymore. Selling such things can often help you accumulate decent sums of money. It is also an excellent source to get fast cash. And it might help you free up some space at home as well. Selling things could range from anything like:
An old cell phone that you do not use anymore. This is a proven way to get fast cash, research proves that once you upgrade to a new phone, the older one is always lying around. Selling it off might help you get fast cash.
Hold a garage sale: If you search well enough, you will find enough Christmas gifts that are sitting unused in their original packing. Having a garage sale of all the things you don't use is a good way to get fast cash.
You could also try and sell gift cards that you never used
Pawning valuables
So the need to get fast cash is urgent and you cannot think of a better way, you can consider your local pawn shop as well. Pawning out a valuable is not the best option, but you can get fast cash with this. They have a slightly lower APR since you have a valuable submitted to them as collateral.
If you are not able to repay the loan they will simply sell your valuable.
Borrow money from a friend or family
This is a simple way to get fast cash. But always make sure the amount you borrow is within limits of how much you can repay. Involving money into relations tends to incline them to turn sour. If a friend lends you the sum on goodwill always ensure you return the sum well in time.
Take a payday advance
If your cash crunch has occurred slightly closer to your payday, you could consider asking your office for a payday advance.
How to get loans from Money Lending Sources?
If you have exhausted all the options above and still have the need to get fast cash, there are various options for you. If you have a decent credit score, getting a loan is usually very easy. The real challenge is when you have a bad credit score and are in need of a cash loan. Check out the following cash loan options.
These loans are one of the best and cost-effective options to get fast cash. If you have about a week in hand, these personal loans are your best bet. Credit unions offer small dollar loans or loans of a smaller amount, which are known as signature or unsecured loans.
If you need just about a few hundred dollars as loan, they are a good source. Though each credit union differs, they usually take anything around a week to transfer the funds after your application has been approved.
These federal credit unions have various advantages, like a membership with a credit union is not mandatory for a loan application. You can also apply for your personal loan online. The best feature of these community institutions is that the APR for their loans is always capped at about 18% by law. Since they work in sync with borrowers and have certain regulations with regard to APR. This makes it an affordable choice to get fast cash even for those who have bad credit.
The only setbacks of these loans is
Not all nationalized banks offer personal loans
They usually expect you to have a good credit
The procedure may take longer to go through, though the online application may process faster.
The time period allotted for repayment also spans over many months, and so the person can easily pay the loan back comfortably without much of an issue. Though the process may not be very fast, it is one of best options to get fast cash.
Online Personal Loans
The time duration for these types of loans may vary, but commonly they tend to work out within 2-3 business days. Some even offer to process the loan within a matter of hours. While sometimes it may even take up to a week. The exact amount of time taken to process your loan could depend on your application.
To get fast cash, when you apply online for a personal loan, the marketplace lenders then connect you to investors who are willing to offer loans. These loans usually get funded very quickly barring a few exceptions when they take longer.
The key feature of this online application is that they run a soft credit check and having a good credit score is not their mandatory for all money lenders. Some money lenders even specialize in providing loans to those with a bad credit score. While there are some whose main specialty is to cater to the personal loans of those with a good credit score.
This, however, will also not affect your existing credit score in any way.  They check usually if you qualify for the amount of loan you have requested and the APR they expect you to pay.
The rates in case of online personal loans are capped at anything around 36%. Once you qualify for the online personal loan, the rate that you will pay depends on various factors that include
Your credit history
Your profession
College major etc.
You can definitely attempt to get these loans by simply sparing some time applying to few money lenders. You can finally choose the one who offers the lowest rates and those with flexible payment options.
The process used by money lenders to assess whether you qualify or not varies and so you could get different rates from each of them. To get fast cash, this is really a great option provided you have time at hand.
To reduce the amount of time they take to process your loan, it is always a good option to compile all your financial paperwork and provide it to the company. This is so that the company can easily verify your details and process your loan rather than doing a back and forth of requirements.
Credit card cash advance
Getting a credit card cash advance is one of the most viable ways to get fast cash. You can get the loan amount almost immediately from your credit card issuer. All you have to do is use your credit card at any ATM.
However, credit card cash advances are usually limited to only a few hundred dollars much unlike your credit card limit when you use it to make purchases. So in case if you need to get fast cash of a higher amount, this may not be an option for.
Yet another setback of credit card cash advances is that the APR they charge for these loans is extremely high. Most credit card cash advances only begin at around a rate of a whopping 20%. In addition to this high APR, the banks also charge a cash advance fee which could range anywhere between 2-5%.
This is a much higher rate than what you pay when you make purchases using the credit card.
To elaborate on this, suppose you require a cash advance of says $1000. And the banks commonly charge anything around 25% APR. You may be charged say a 3% as a cash advance fee. So you end up paying the bank well over $1400 and along with that an addition $30 as cash advance fee.
Also, the interest begins to add on without any grace period, so in case there is a delay in repayment from your end, your repayment amount could soon slip out of control.
When you need to get fast cash, this is an excellent option in terms of time. But one must make sure the loan amount is paid back well in time to avoid any extra charges which hike at an exponential rate.
It could be a good option when you are expecting your pay or the lump sum in near future with which you can pay back easily.
PayDay Loans and No Credit check installment loans
When you are n dire need of money, and all other sources appear bleak, PayDay loan options appear like the light at the end of the tunnel. These are one of the fastest forms of money lending. Here you can get fast cash almost immediately.
The vital element of PayDay loans is that they offer you a loan without checking your credit score. So in case if you have a bad credit score, you can easily still get the loan amount without much of a hassle. However, you are expected to have a bank account and a regular working paycheck to qualify.
The PayDay loans come as a boon to those who have to get fast cash to urgently pay bills and other expenses. However, one must be cautious as they come at an extremely high APR. Though you may get an instant cash loan but you may be charged anything around 400% as APR. This means you pay back at a much higher rate.
Though the advertisements like 'instant cash loans', 'get fast cash', 'quick cash' etc. may seem appealing especially when in need urgent need of money. One must think well before indulging in these loans simply because of their high APR.
If a person has not been able, to sum up, an amount at one time, chances of them being able to pay back that amount plus the high-interest rates are usually slim.
The problem arises from the fact that PayDay loans do not look into whether the person has the financial capacity to pay the loan back. They approve the amount which along with the high-interest rates become extremely burdensome for a person to pay back.
And this ends up putting the person in the vicious cycle of debt.
However, when nothing else seems to work out, it is only a PayDay loan that can bail you out of your financial emergency.
It is a feasible option if you take a PayDay loan and repay it as soon as you get your paycheck.
The other option of 'no credit check installment loans' are also similar, with just the option of paying back the loan amount in installments. However, the APR remains just as high.
You can consider this as an option almost only if you are expecting a certain amount of money coming your way in near future. Otherwise, it tends to become a very expensive option.
Conclusion:
Financial emergencies are something that comes unexpectedly. However, we all know that prevention is better than cure, and so regularly saving even a small amount for any unprecedented expenses is an excellent option.
Little by little these savings accrue to become decent sums and come handy when needed urgently.
Other than that, one must always explore all other options before choosing to take a loan from the market. Opting for loans like a PayDay loan must be well thought of. As getting stuck in financial trouble is the most difficult situation to be in.